.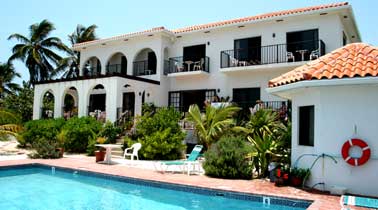 Grand Cayman, affordable and authentic
Cayman Island hotels now include Turtle Nest Inn, an exotic, beachfront alternative to the large hotel chains and high-priced condos. This brand-new, intimate inn in a genuine island setting offers superb snorkelling, a fresh water pool, sandy beach and fully-furnished luxury apartments.


Turtle Nest Inn is affordable because a full apartment at the Inn, with complete kitchen, is less costly than a standard room in most Grand Cayman hotels. The inn is unique in that it combines the comfort and cooking facilities of a condominium, with the ambience of a hotel and service on a par with Europe's best country inns.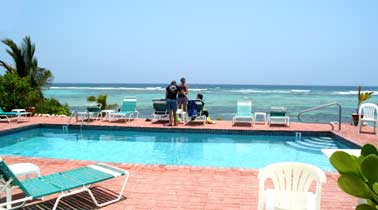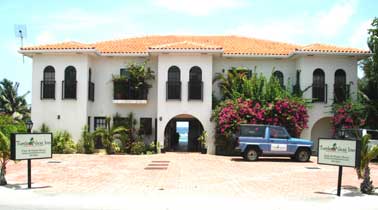 Cayman's Turtle Nest Inn is intimate and elegant; there are only eight apartments within the stunning, Spanish-style architecture, highlighted by whitewashed walls and cooling terracotta tiles. And you can relax in the seclusion of the outdoor terrace, surrounded by graceful arches, or on the uncrowded beach.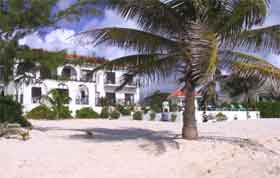 View of the Inn from the beach, by Dennis and Terry Hunter.
Cayman's Turtle Nest Inn is exotic because it epitomizes the island paradise style, with beautiful stretches of beach and the crystal-clear waters of the Caribbean -- yet it's just 10 miles from George Town and the airport, but "off the beaten track", and far from the maddening crowds.
The Inn, situated in the quaint and charming village of Bodden Town, is also authentic. Unlike "tourist strip" lodging, the Inn allows you to access the heart and soul of the island. "To stay in Bodden Town is to get a real taste of the Cayman Islands and its people, to experience and enjoy a unique Caribbean culture and lifestyle at very close quarters."

The Cayman sunrise at Turtle Nest Inn, captured by Julia and Albert Dickinson.
Since its March 27th 1999 opening by the Caymanian Minister of Tourism, Turtle Nest Inn has received rave reviews from the local and international press, members of parliament and departing guests. And, although new, the Inn has been virtually full -- so don't delay getting in touch and reserving! For a different island experience, that you won't find in other Grand Cayman hotels, please read on; discover the Caribbean's newest secret through the many photos and abundant information on the following pages...  

---
Home Page | Next Page | Contact the Inn | Maps & Directions | Discounted Package Specials
Rate Sheet | Car Rental | Guests' Comments | Press Coverage | Snorkelling
Tourist Info & Links | Frequently Asked Questions (FAQs)
Honeymoon Home Page | Affiliated Properties
Cayman's Quincentennial: 500 Years of History

Cayman Islands Department of Tourism
©Cayman's Turtle Nest Inn, Grand Cayman 1999